BIGHORN's Culinary Team rivals any high-end resort in the world. Their stellar expertise, panache for a wide variety of events, and delicious, artfully presented dishes blows away the competition. Executive Chef Greg Proper believes in hiring innovative chefs, both in creativity and in use of flavors, to continue elevating the menus in BIGHORN's seven restaurants. "Our personal attention to Member requests leads us to making every plate unique and special," says Canyons Steak House Chef de Cuisine Nicholas Stendebach. "We listen to our Members and they take notice! When you are producing over millions of dollars in food and beverage sales per season, you want to make every experience extraordinary."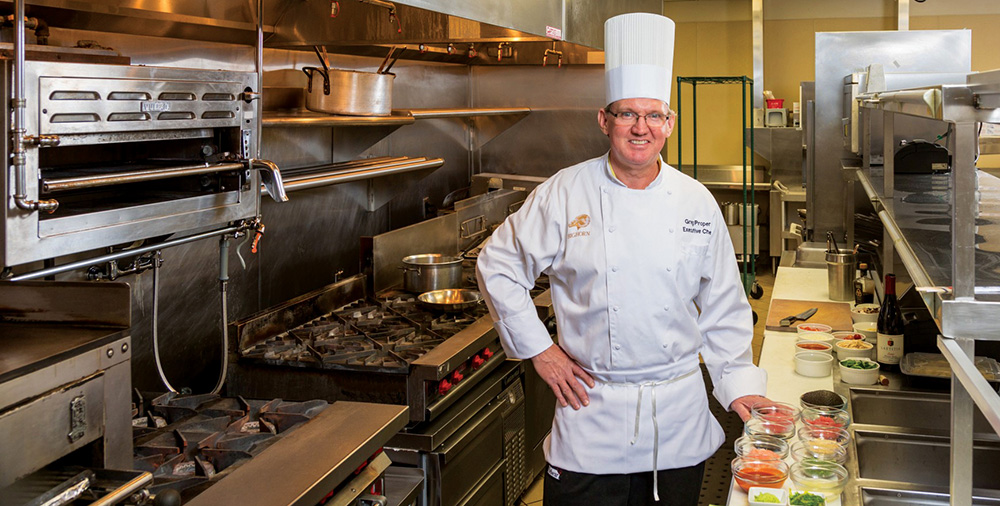 The Canyons Steak House has been lauded as the best private restaurant in the Coachella Valley. Our full, steady bookings throughout the season prove the ultimate success of the freshest cuisine and finest service.
Chef Proper adds, "We make it a point to approach every Member as if they are the #1 person on property. We procure only the best quality product and know everything about it. We know exactly where our Prime-grade meat comes from, what they eat, and how they live. We research and purchase topquality fresh wild seafood.
Every day I visit with Members about their meal and ask if they need anything in particular when they dine with us. We will go to the lengths of flying in abalone from Hawaii or Hudson Valley Foie Gras from New York just to complete a memorable evening with friends and family. And the food is only part of it – the entire experience is what really counts. Chef Stendebach adds, "My favorite quote from Chef Greg since the first day we opened has been, 'Each plate is your best plate; everything on it is perfect. It looks just like the perfect plate that you made right before it. You put it out and the next plate becomes your best.' "
"What makes BIGHORN special is that we are a family," describes Chef Stendebach. "When you love to be at a place as much as our Members and staff do, it doesn't feel like you are at restaurant, but rather at your home entertaining friends and family with an exquisite meal and service. Our staff knows our Members' individual tastes and preferences, right down to their favorite cocktail, which is usually waiting for them upon arrival."
"I love to paint an experience through the five senses," continues Chef Stendebach. "Just like a painter, I strive to do that with the food, service, and space. When you see the beautiful view of the Valley beyond and receive first-class service, these things are setting the stage. Then your dish arrives, you see it, smell it, taste it, while hearing the sounds of enjoyment of others with their meals. We have painted a complete work of art, all for your enjoyment."
"As a chef, every one of us desires to challenge our creative juices by producing that euphoric first bite that leaves our guests smiling. We see a lot of empty plates returning to our kitchen and we know that we have succeeded!"
Chef Nicholas Stendebach, BIGHORN's Chef de Cuisine, holds over a decade of culinary experience in executive chef management and extensive knowledge in fine club kitchens. Nick produces an amazing dining experience for BIGHORN Members and guests. His fine arts degree from the Fashion Institute of Technology makes a perfect complement to his degree from the New York Restaurant School. Nick's passion for cooking helps him create art that everyone can enjoy visually and can savor bite by bite.